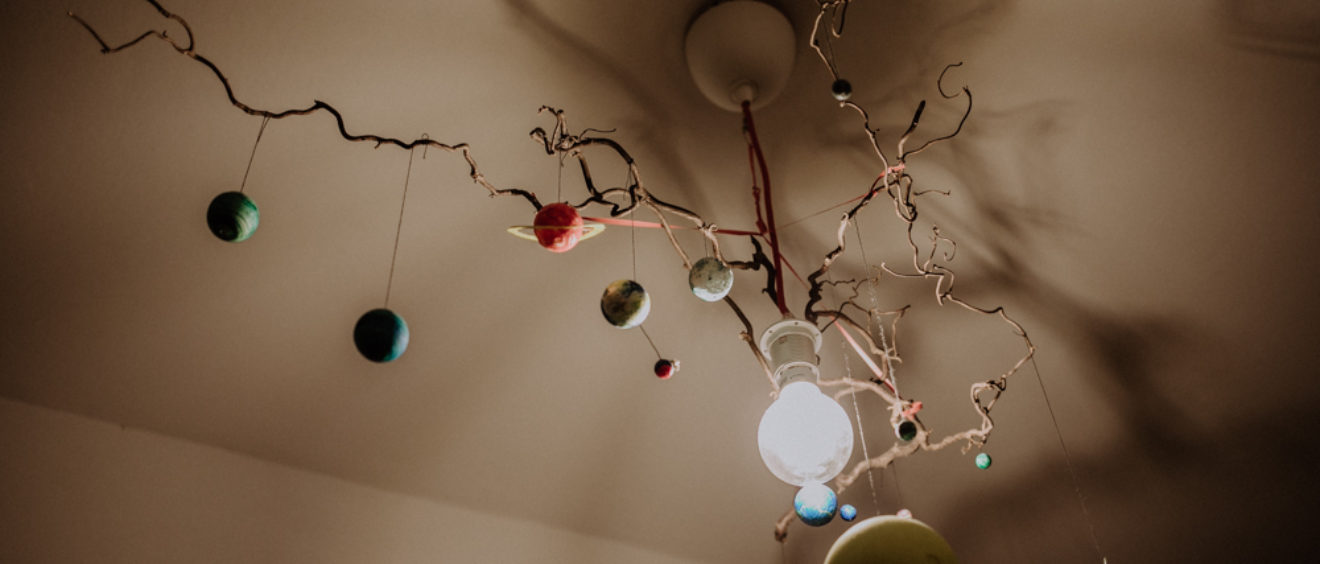 Bunte unendliche Liebe – Hochzeitsreportage im bitterkalten Februar.
Das Sonnensystem über diesen beiden Menschen lächelt ihnen zu. Gerade so als würde es ihnen alles Glück des gesamten Universums für Ihre bevorstehende Hochzeit wünschen. Sie schnappen ihre Taschen. Noch schnell ein Freudentränen-Taschentuch in den weißen Chucks verstauen.
Die beiden Trauzeuginnnen und gleichzeitig auch besten Freundinnen laufen geschwind nach unten und überraschen die beiden Bräute mit zwei kleinen Brautsträußen. Jetzt ist alles perfekt! Wir laufen zur Straßenbahn um die drei Haltestellen zum Standesamt am Schillerplatz zu fahren. Aus dem Rucksack einer beiden Trauzeuginnen begleiten uns wunderbarschnulzige Lovesongs aus den letzten drei Jahrzehnten. Die beiden Trauzeuginnen nehmen die vorderen beiden Plätze im Trausaal des Dresdner Standesamtes ein. Die Trauzeuginnen, die Standesbeamtin und ich sind ganz aufgeregt und erwarten die beiden wunderbaren Bräute. Dann startet die Standesbeamtin das erste Lied der CD und es gibt ein wahres Feuerwerk an Liebe, Dankbarkeit und Gänsehaut.Looking out on the morning rainI used to feel so uninspiredAnd when I knew I had to face another dayLord, it made me feel so tired. Before the day I met you, life was so unkindBut you're the key to my peace of mind
Die Flügeltüre des Trausaals öffnet sich und zwei über alles strahlenden wunderschönen Frauen schweben in den Raum. Ja, sie schweben. Wie zwei wunderschöne Elfen. Ich ringe nach Fassung, verstecke mich hinter der Kamera und wische mir eine Träne von der Wange, während Aretha die nächste Zeile voller Inbrunst aus den Lautsprechern singt: "you make me feel like a natural Woman".